We send case reports by email as attached PDFs to the email address you used to submit the request form. At the moment we hit send, a copy of that email and attachment are archived here on this site in a password-protected page made just for you. 
If you log in to this site using the same email address that you provided when you submitted the request form to us then you will see that case and all previous cases by clicking the dropdown arrow next to your name and selecting the menu item called "my activities." If you use a different email address to log in to this site than what you used to send us the case, just let us know and we will tie the two together. We can also tie several email addresses together under one clinic or practice so that your colleagues in say, a neurology department, can view all the department's cases on one page.
Step 1 - click the dropdown arrow next to your name
Note: if you don't see your name then you need to register or log in.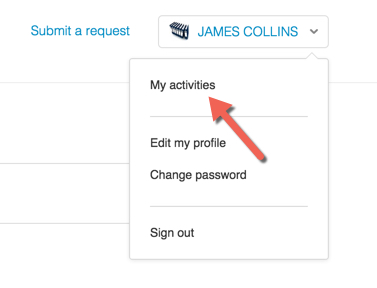 Step 2 - Find the case you want in the "requests" tab as shown below
Note: your posts in the community forums and comments on our articles are gathered in one place under the "contributions" tab.